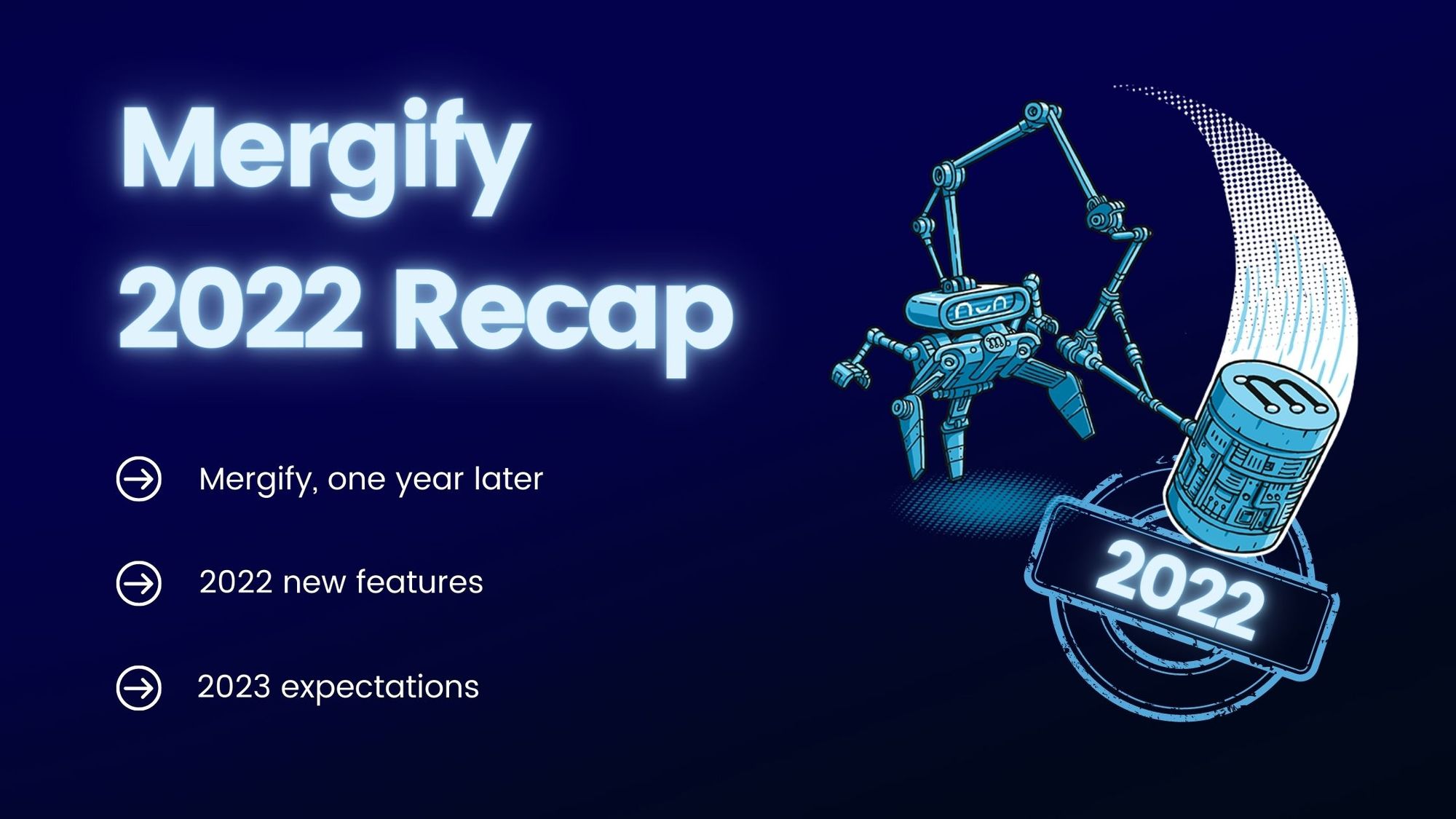 Mergify: Looking Back at 2022
At Mergify, 2022 has proven to be a year of development. The company has seen great growth and progress from our users to our products to the Mergify team.
Here's an overview of the events and news that punctuated this year for us, which was definitely pivotal.
Mergify's Users
Of course, as with many services, Mergify wouldn't be much without its users. The good news is that more and more of them are using Mergify daily and spreading the word.
Mergify now has over 35,000 active users;
These users are spread across more than 1,300 different organizations, including many open-source projects;
Mergify is installed on more than 130,000 repositories;
This allows us to merge more than 50,000 pull requests per month automatically.
We are proud of those numbers.
This year, we also gave voice to our users through case studies. They shared their best practices and explained to the Mergify team and fellow users how to get the most out of our tools.
Here is the list of all the case studies we made with our beloved users. Coming from all over the world, some of them are contributors to Open Source Projects, while others are developers at software companies.
That's a lot of interviews and words written, and it was worth it. We discovered so many interesting people and methods. That was an incredible journey, and many more will come. Stay tuned!
Mergify, a growing team of experts
At the beginning of 2022, the Mergify team consisted of only 4 people, including two interns. Although the company was led by its two founders, Julien and Mehdi, the team size was somewhat modest in the face of the challenges brought by the company's growth.
Not surprisingly, 2022 saw many nuggets joining the adventure and thus accelerating the company's development at the business and technical levels.
Meet these newcomers:
Steeven, Customer Success Manager. After a strong experience as a movie director assistant, Steeven has changed professionally and is now in charge of customer care. He helps customers get to grips with Mergify to get the most out of our technology.
Fabien, Software Engineer. Fabien joined the team at the beginning of the year and immediately put his knowledge and skills in Python to good use. From bug fixes to the development of brand-new features, nothing resists him.
Charly, Software Engineer. Charly started his career as a Python GIS developer. Today at Mergify, he focuses on Object-Oriented Programming (OOP) and Test Driven Development. He loves to build cool things that work like there is something magical in it.
Guillaume, Software Engineer. We call Guillaume our Python wizard, just that. After interesting experiences working with Python, he joined Mergify to work mainly on our engine and our beautiful dashboard.
Alexandre, Software Engineer. Alexandre is our Mr Frontend. In his previous experiences, Alexandre has played an important role in responsive website creation, application development, and other digital products. His hobby? Frontend technologies, especially those related to performance optimization, mobile development, and graphic design.
Mathieu, Marketing Director. After spending years building marketing for tech companies, especially in Artificial Intelligence, Mathieu spreads the word about Mergify everywhere he can. If you haven't already, you should come across him regularly through our marketing content and other events.
Erwan, Software Engineer Intern. A recruit who is not new: Erwan already had a first experience at Mergify as an intern, and he's back at it. Tremble, bugs.
Aniket, Developer Advocate. He won over 10 international hackathons and has experience working with several organizations starting from founding and leading a campus club to working with Barclays. He is passionate about open source software and contributed to over 15 organizations.
As you can see, the team grew fast, and Mergify is still looking for new software wizards. Of course, do not hesitate to check our open positions 😇.
Events: from team building to Dublin
This year also marks another turning point for Mergify: many real, in-person, physical events. The Mergify team has participated in no less than 7 events this year. Here they are in chronological order: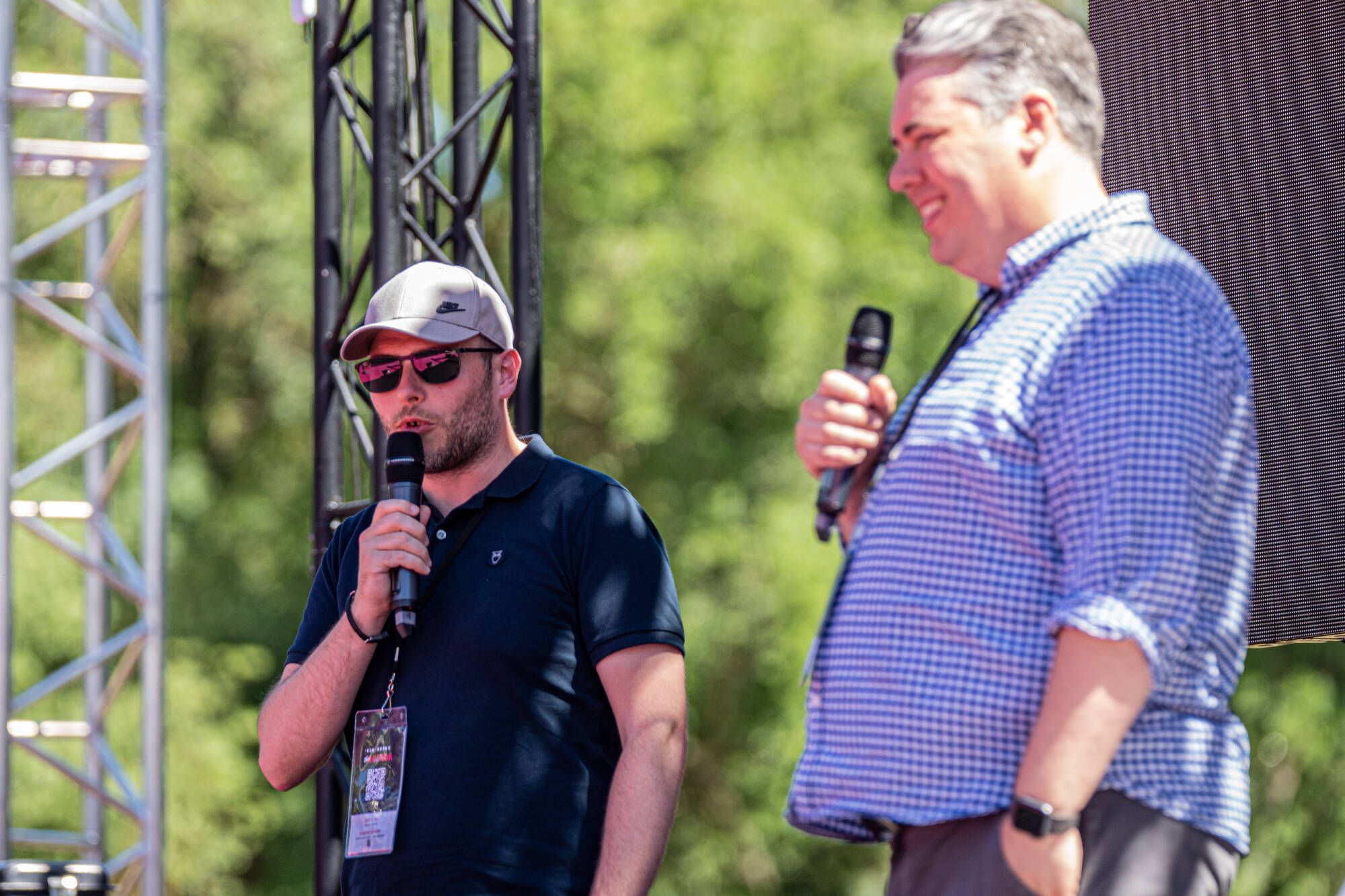 B2B Rocks: Julien and Mehdi went to Montpellier in person to attend the event as speakers to talk about bootstrapping a startup and marketing for engineers. Great people, great talk, they had a great time;
SIDO Lyon: it was the first Mergify event for Mathieu. Just arrived and immediately on the front line to make Mergify known to the innovation ecosystem of the French Rhône-Alpes region;
SaaStock: it was the first international event for the Mergify team. The event took place in Dublin — a beautiful city, by the way — and it brought together the entire SaaS ecosystem. Companies and startups from all over the world;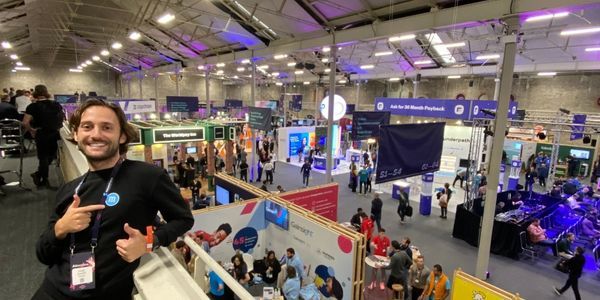 apidays Paris: During this event, Mathieu gave his first talk for Mergify. It was all about Developer Experience, from what it is to how to improve it;
Toulouse Python Meetup: Mergify decided to revive the Toulouse Python Meetup that went dark during the COVID period.  We've been sponsoring 2 events already, and are looking to run even more;
Tech.Rocks: Mathieu and Mehdi attended this tech leaders-oriented event. Many CTO and technical leads from all over the world.
While Mergify has participated in many professional events, the company has also launched internal events: MAHOS (Mergify All Hands On-Site).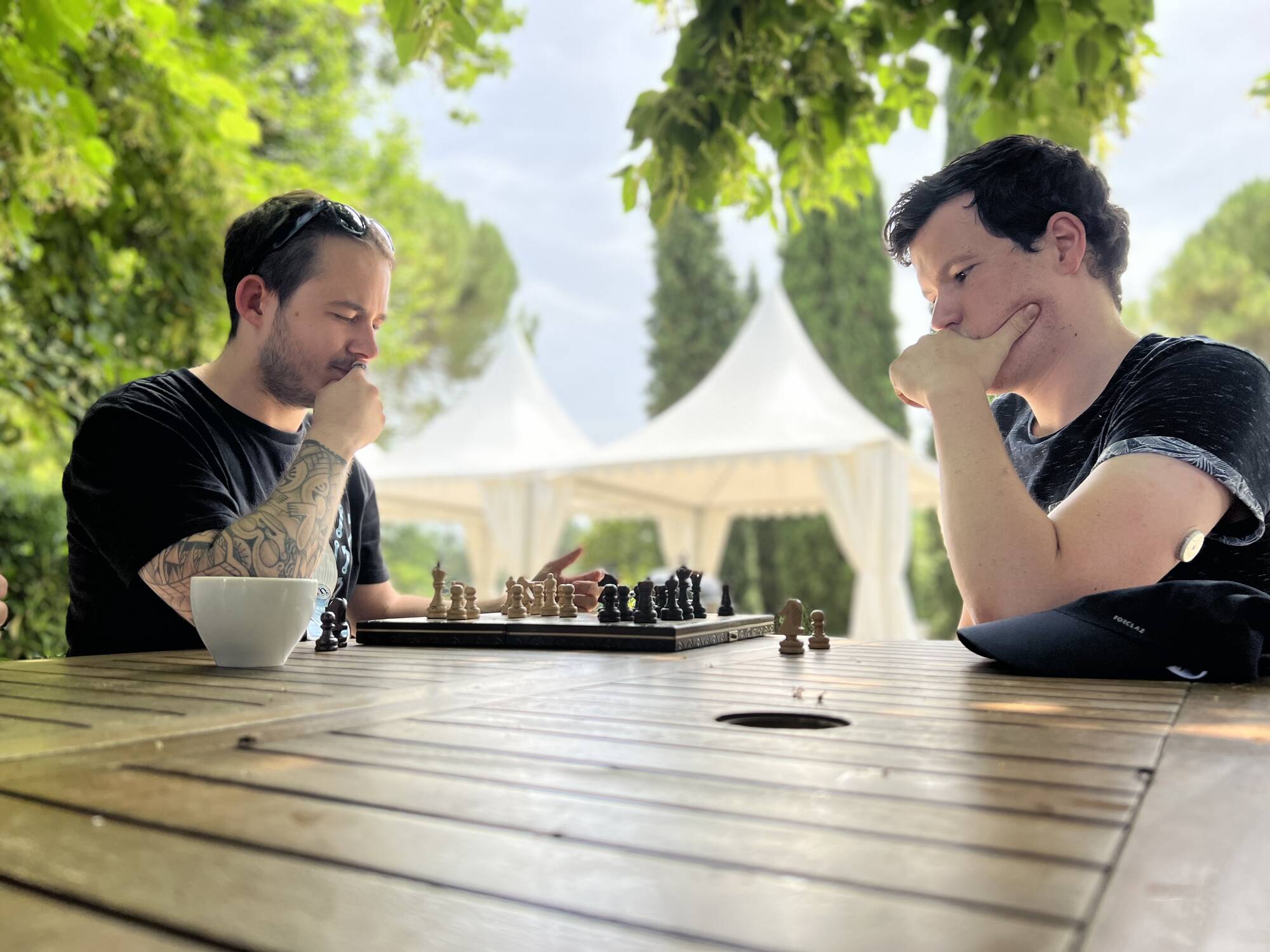 As a remote-first company, the team does not have a lot of opportunities to see each other daily. Those times are a must-have to bond and share moments in person. While the atmosphere is warm and friendly, we don't twiddle our thumbs, and some important subjects are treated in commando mode for over a week.
As you can see, we had a great time in amazing places, most of the time lost in the country. We discovered some interesting parts of France.
Important Milestones
Enhanced Bug Bounty Program
Mergify continuously increases its security position. Following this goal, we decided to leverage HackerOne as a platform for our bug bounty program. It means that many hackers worldwide are trying to find bugs, breaches, and security flaws in our technological assets. If they find one, they will let us know to fix it. A proof that we ensure great security for our users.
SOC 2 Certification
During 2022, Mergify ran an auditing procedure to get this certification with Vanta. SOC 2 ensures Mergify securely manages users' data to protect its customers' interests and privacy. For companies paying attention to their cybersecurity, SOC 2 certification is a sine qua non when choosing a SaaS provider.
Sponsoring
This year, Mergify sponsored multiple famous and huge daily newsletters which give links and abstracts to the most interesting and inspiring stories. They cover topics from startups news, technology but also and especially programming.
Public Institution Support
Mergify can count on the support of French public institutions and, more particularly, on that of the Occitanie Region. The region wishes to support Mergify in its growth, both at the business and technological levels.
Video Content
Earlier this year, we launched our YouTube channel and published our first videos. You can expect many more videos for 2023: learning resources, demos and tutorials, protips, and even some portrait videos.
Product's focus
We try to make our clients' lives easier. It means releasing features that will help them work efficiently, which they can't live without. If you want an overview of all the year's developments, you can also consult our changelog.
Here is a recap of the main changes we shipped.
Queue Freeze
The freeze feature works like a valve by allowing teams to choose which queues can merge and which cannot, according to their context.
By freezing a queue, it is essential to note that every CI, check, and condition will still be run and verified for each pull request — only the merge part will not be executed. This implies a crucial point: teams can still work and provide code as usual while a queue is frozen. This makes sure that freezing does not break any work dynamics or momentum.
Event Logs
This feature helps you to get the events logs of a pull request. It means keeping track of everything Mergify has done automatically for you.
This log answers every question you could ask yourself about what Mergify did with your code and how it helps you to work on it.
Queues Statistics
Thanks to the new queues statistics feature, you can get more insight into how much time it takes to merge changes. This is quite helpful if you want to track your merge time variations and improve them. You can have access to this feature directly from the dashboard.
Commands Restriction
This allows the configuration of who can run a Mergify command. Don't hesitate to take a look at the configuration page. You will find everything you need to understand and use the feature correctly.
New Queue Commands
We introduced a few new commands for Mergify:
queue: the queue action moves the pull request into one of the merge queues defined in Queue Rules.
requeue: inform Mergify that the CI failure was not due to the pull request itself but to, e.g., a flaky test.
New merge-queue configuration options
batch_max_wait_time: the waiting time before creating the speculative check temporary pull request. See Speculative Checks.
checks_timeout: the amount of time Mergify waits for pending checks to return before unqueueing pull requests. This cannot be less than 60 seconds.
draft_bot_account: Mergify can impersonate a GitHub user to create draft pull requests. If no draft_bot_account is set, Mergify creates the draft pull request itself. The user account must have already been logged in Mergify dashboard once and have admin, write, or maintain permission.
queue_branch_prefix: when creating a draft pull request for a queue, this prefix will be used to name the branch.
queue_branch_merge_method: fast-forward: if set to fast-forward, Mergify will merge the draft pull request instead of merging the original pull request that has been checked. (This only works when the queue action method is set to its default merge). If GitHub branch protections are enabled, check out fast-forward merge and GitHub branch protection.
allow_queue_branch_edit: When creating a branch for a queue, if the code of this branch is edited by an entity external to Mergify, Mergify un-queues all pull requests embarked in the branch and report the issue as a failure. If set to true, Mergify will allow such modifications and trust the branch's content.
New Condition Attributes
We've added new attributes that allow matching dependabot pull requests specifically: dependabot-dependency-name, dependabot-dependency-type, and dependabot-update-type.
Other Features
Centralized configuration with extends configuration option: You can extend a configuration once by inheriting the configuration from another repository configuration where Mergify is installed. The value of the extends key is a repository name such as extends: my_repo. The local configuration inherits rules from the remote configuration. Remote rules will be overridden by the local configuration if they have the same name.
The rebase operation added autosquash support: when set to true, commits starting with fixup!, squash! and amend! are squashed during the rebase.
Post check action added success_conditions option to finely configure which pull request you want the check-run to be posted.
Our Expectations for 2023
We can be proud of what we accomplished this year, knowing we started 2022 with a team of four and are now ten — and growing. Our features catalog is becoming increasingly developed, with features our clients need and ask for.
But nothing can ever be taken for granted, so our 2023 objective is to be better than we were in 2022 and accomplish more!
Growing the Team
As we are still developing new features, and our clients' list is growing, we need more hands to help us.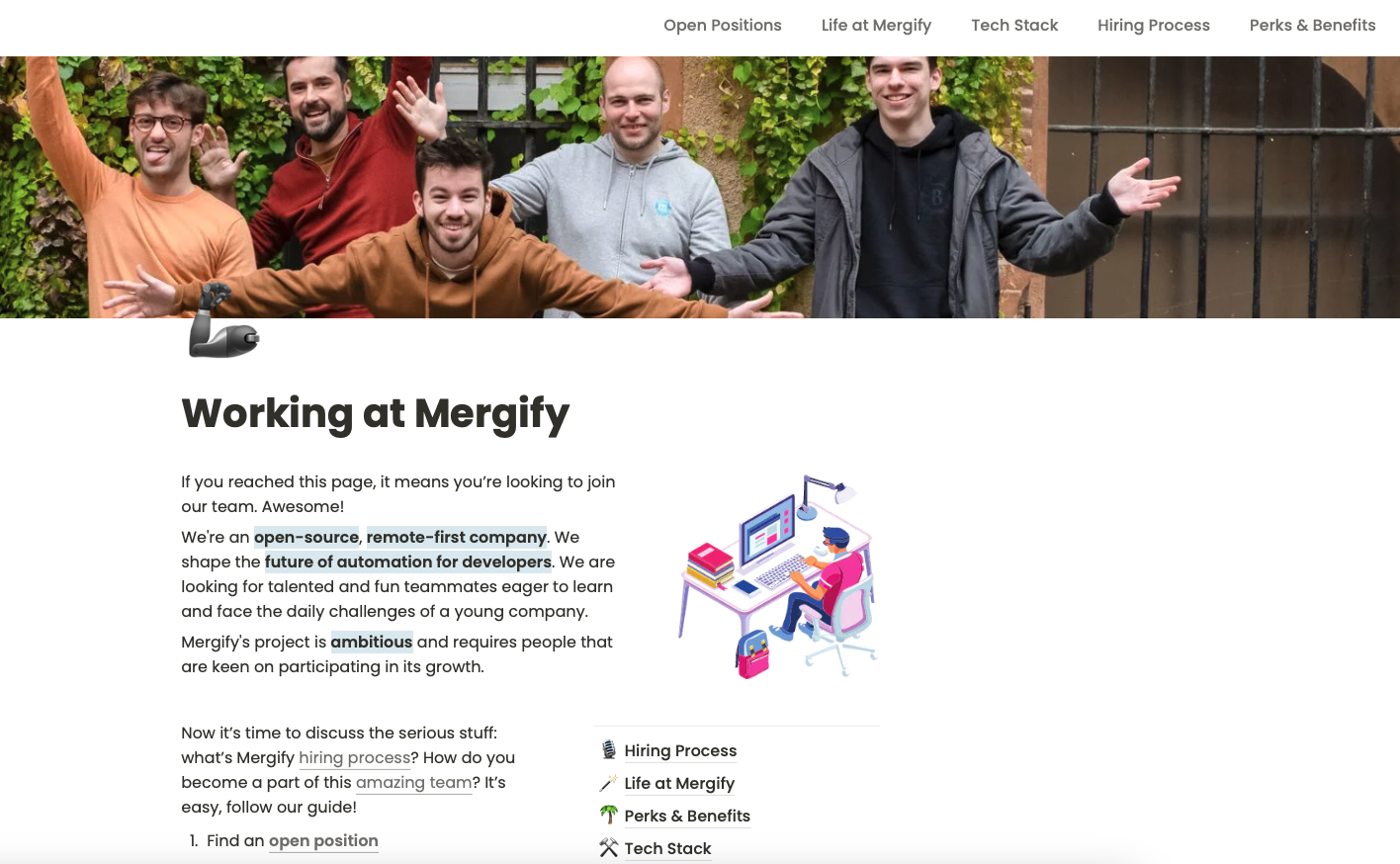 Here is a little recap about our company: we're a remote-first team aiming to shape the future of automation for developers. Mergify's project is ambitious and requires people keen on participating in its growth.
We are looking for talented and fun teammates eager to learn and face the daily challenges of a young company. Check out our open positions!
Don't hesitate to share them if you know someone who could be interested!
Next In-person Events
If you want to meet us, you will have plenty of possibilities. We will participate in many events during 2023 — at least two per quarter.
We will announce each participation on our social media and community Slack!
Stay tuned to learn more about the great things we'll build in 2023!